CLINICAL CLEAR TREATMENT
The ultimate organic skin resurfacing + vitamin infusion
Mild in-clinic skin treatment targeting congestion, breakouts and blemishes to rebuild and support healthy skin function. Working deeply to instigate physiological change within cells to enable reversal of damage brought on by all extrinsic factors, this treatment is suitable for an introduction to advanced treatments or as a maintenance regime to keep your skin clear.
ACNIGO Clinical Clear treatment is based on organic compounds Salicylic Acid and Vitamin A, they are ingredients that work with your skin's natural physiology, restoring a healthier and clearer tone and texture.
For best results and long term healthy skin, they are usually prescribed as a course of four to six treatments performed a fortnight to a month apart, depending on your unique skin concerns. The treatment takes approximately 45-60 minutes.
Find your closest ACNIGO Clinic Stockist here
---
Treatment Skin Benefits.
Provides a deep, yet gentle exfoliation for clearer skin
Stimulates collagen production and brightens complexion
Normalises the over-production of sebum
Reduces pore size for a more even complexion
Reduces hyperpigmentation and improve skin tone
Restores capillary flow and increase nutrition in the skin
Increases firmness and elasticity
Heals red and inflamed spots on the skin
---
Professional only products used in treatment
The intensive treatment containing concentrated, medical grade active ingredients combines organic skin resurfacing with a powerful vitamin infusion to maximise results.
Organic skin resurfacing
Organic vitamin infusion blend
Ensuring optimal effectiveness, our professional only products are uniquely packaged in standardised medical vials and syringes to eliminate oxidisation due to environmental contamination that can often occur in clinic/salon environments.
Organic Skin Resurfacing.
To remove the first layer of the skin our superficial organic skin resurfacing treatment uses fruit-sourced Beta Hydroxy Acids (BHA). The removal of the top layers of skin help induce collagen remodelling and therefore improve sun-damaged skin, skin pigmentation problems, wrinkles, skin texture, and the overall appearance of the skin.
Salicylic Acid Resurfacing
Salicylic acid is a BHA (beta hydroxy acid) exfoliant that is effective in treating oily skin, clogged pores, blackheads and blemishes. Salicylic acid works by penetrating the follicles removing trapped oils, dead cells and reducing inflammation within the skin.

During the sin resurfacing a slight burning or stinging sensation may be felt. Itching may also be felt, but it will only last a few minutes. After the resurfacing peel the skin may be red, shiny and sensitive, but should only last for a couple of hours. When resurfacing for acne control, the skin may purge itself, in which case more acne will be seen.  This is only temporary and is a result of clogged pores being brought to the top of the skin, erupting in new pimples.
---
Clinical strength infusion of Vitamin A.
The concentrated Vitamin A, boosted with powerful antioxidants and nutrients passes through the skin and is penetrated deep into the skin through massage or ultrasonic technology. Vitamin A stimulates collagen production and the formation of new skin cells to repair and remodel the skin, resulting in vibrant, healthy, fresh-looking skin.
The infusion is customised to meet each client's specific skin needs and concerns with a custom blend of antioxidants and nutrients mixed with the Vitamin A.

Active Blemish Vitamin A Blend
The CLARIFYING infusion increases scar tissue remodelling, helps clear stubborn bacteria, improves wound healing and calms inflammation.
Clients will need to condition their skin using Vitamin A for a minimum of 4 weeks prior to having their first ACNIGO Clinical Clear treatment. This will ensure that the skin has been conditioned to reach the full potential of the treatment.
---

Clinical Clear Pre-Cleanse Oil.
Enriched anti-inflammatory bio lipid & ceramide formula ideal for dehydrated, sensitive & combination skins. Encapsulates free radicals, debris & impurities for effective yet gentle removal. Fortifies the fragile barrier revealing revived, hydrated and calm skin. Daily use relieves itching, burning & reduces irritation. Softens & nourishes skin to inhibit age related loss of collagen, wrinkle formation & inflammation
Clinical Clear Hydro Silk.
This powerful post peel serum restores elasticity and skin tone. Its moisture retention benefits reduce dryness, itching and burning. It contains a very high concentration of medical grade Hyaluronic acid, which dramatically boosts the skin's hydration levels and helps to maintain the elasticity within the skin.
This unique concentrate also contains Magnesium, Zinc and Copper plus the remarkable peptide known as SNAP-8 greatly assists in collagen synthesis and wound healing.
Ideal post laser, invasive peels and sun burn.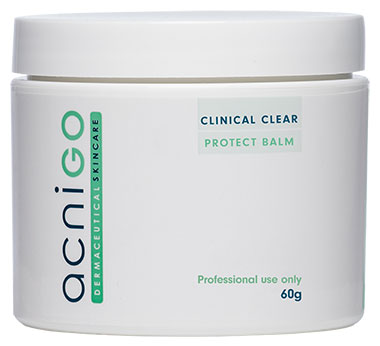 Clinical Clear Protect Balm.
An intensive nourishing complex of Ceramides, Lipids and Antioxidants, Dermal Replenishing Balm is designed to care for sensitive facial skin by forming a protective layer that limits moisture loss and protects against visible damage from pollution and other environmental stressors. The skin replenishing ingredients reinforce skin's barrier function and increase hydration — alleviating irritation and dryness, whilst accelerating the skins healing process.
Retail homecare products used in treatment
A combination of homecare retail products are used in the treatment to clean, repair and control.
01 Clear Cleanser.
Designed for normal, oily or combination skin the AHA formula exfoliates effectively, gently removing impurities and dead skin cells, leaving the skin refreshed, hydrated and soothed without stripping the natural barrier. Infused with Lemon Myrtle, the fresh and floral scents of nature combine to make this cleansing emulsion a smooth yet gentle exfoliating cleansing regime, whilst assisting the penetration of active ingredient application.
03 Clear Serum.
The perfect solution for those troublesome breakout areas, The Acnigo Clear Serum is a targeted spot treatment which clears and soothes red inflamed pores. Its potent formulation of antioxidants, Vitamin A and B3 (Niacinamide) deliver a healing factor directly to the pore where it can be quickly absorbed. This fast acting formulation is designed to treat common breakout areas by visibly reducing redness and preventing pores from re-inflaming. An added bonus to the Acnigo Clear Serum is its rich hydrating base, so your skin will look smooth and supple whilst repairing.
Optional equipment used in treatment

Optional equipment to optimise treatment:
Sonophoresis or Hydrobrasion
LED Light Therapy
Facial Steam or Heat Pad
Sonophoresis or Hydrobrasion.
The skin has pores and follicles that need to be deeply cleaned, professionally. Depending on your skin condition your clinician will select Sonophoresis or Hydrobrasion to thoroughly clean your skin.
Sonophoresis scaling, helps to clear away impurities and dead skin cells, creating a smoother, more even texture. This is performed by passing a small paddle over your face which emits sound waves having a gentle cleansing effect on the skin.
Hydrobrasion exfoliates with both a dry and a wet system. The skin is deeply exfoliated with diamonds while simultaneously vacuuming and washing it. This treatment is a soothing, refreshing and deeply cleaning.
LED Light Therapy.
LED light therapy works at a cellular level (especially great to fight active acne and rosacea). The soothing, deep penetrating LED lights target deep into cells heightening their internal functions, photo-stimulating dermal blood flow, and creating faster healing so your skin always looks rejuvenated. The result is the complexion is plumped up with new collagen (which pushes the folds of the wrinkles out) and new elastin (which helps to tighten the skin and give it more elasticity).